VETUS STRAINERS, WATERLOCKS & PUMPS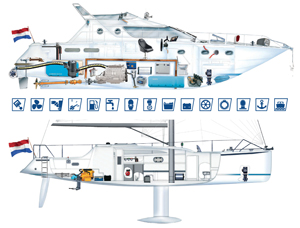 VETUS was founded in 1964 and started out as a wholesale business with the goal of being the leading company in innovative systems and products for pleasure boats and light duty commercial vessels. They have made it their mission to constantly provide the best products and service in the business, bringing innovative and sustainable solutions to their customers. VETUS are industry wide specialists who design complete boat systems. From a complete propulsion system to a waterlock, they have both technical and market expertise, with a global network and offering unrivalled service.
They are also owners of some well-respected marine brands, such as Maxell (windlasses, capstans and anchoring system accessories), Marex (custom boat windows) and V-Quipment (a diverse range of marine products).
VETUS is ISO 9001:2015 certified which means they have made the commitment to provide a quality product, this also reflected in the warranty they offer – 3 years on all VETUS equipment and 5 years on VETUS engines.
GMS currently keeps a significant stock of a specific range of Vetus-Maxwell products, but has access to all other areas of the product range.